We would like to present to you our latest offering – the new RUPERT catalogue. This is a collection of high-quality wool fabrics in elegant, subdued colours and classic designs. The collection is dominated by subtle shades of navy blue, various shades of blue, deep black, and sophisticated gray tones. In the collection, you will primarily find solid, plain or twill woven fabrics, but there are also delicate patterns such as discreet checks, micro-patterns, or timeless designs like herringbone.
All fabrics in the RUPERT catalogue are characterized by a weight that is perfectly suited for creating elegant men's clothing and corporate attire. This is an excellent choice for those who appreciate classic styles and high quality.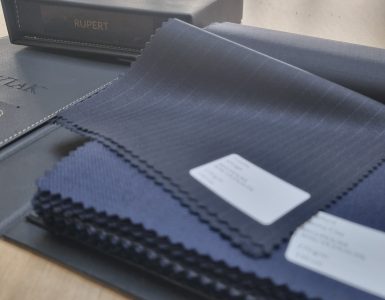 It is important to emphasize that the fabrics from the RUPERT catalogue offer a wide range not only in terms of patterns and colours but also in terms of raw material compositions. Our fabrics are made from high-quality, 100% sheep's wool, or in combination with other materials – both natural and synthetic. This diversity not only provides a wealth of options but also influences price flexibility.
Another advantage of our fabrics is the short order processing time, which means that we will quickly deliver the products you have ordered. We warmly invite you to get in touch – the catalogue can be ordered directly from our sales representatives or through the contact form on our website.