Fabrics created for measuring tailoring
What does it mean "Super S" ?
Superfine wool is a kind of very fine, soft and comfortable to wear fabric. What distinguishes it from traditional woolen fabrics is high resilience, thanks to which even heavily pressed wool quickly returns to its original shape. Superfine wool is mainly chosen for made to measure or bespoke tailored suits, both for special occasions and for everyday business use. Recently, we have significantly expanded our offer with new colors and designs, thus giving our customers a wider choice. Currently in our catalogues there are nearly 300 different designs of wool from Super 100's to Super 180's. Yarns for manufacturing JÓŹWIAK's fabrics for bespoke and MTM tailoring are sourced from Australian sheep, considered to be the most quality wool in the world . Below we will explain what exactly numbers and the designation Super S on our labels mean.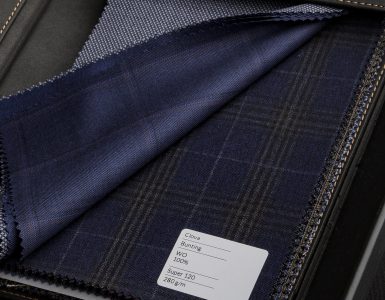 Super S
The word 'super' originally meant the best wool, but nowadays it's more appropriate to translate virgin, pure wool. Currently, however, it is allowed to mix with other high quality fibers such as mohair or cashmere, as well as with elastane. The JÓŹWIAK catalogues include both 100% wools – mainly from sheep yarn, cashmere and yak yarn, as well as wool with the addition of silk or elastane.
The S number on the label indicates the diameter of the fibers from which the fabric was made. In the clothing industry, the number S is expressed in a unit of microns ( thousandths of a millimeter ). These values were elaborated by IWTO (International Wool Textile Organization) and are presented in the table below. Diameter of fiber is estimated when the fabric is already in the final stage of production, after the finishing and dyeing process.
| | |
| --- | --- |
| Super S | Diameter of the fiber (microns µ ) |
| 80's | 19,75 |
| 90's | 19,25 |
| 100's | 18,75 |
| 110's | 18,25 |
| 120's | 17,75 |
| 130's | 17,25 |
| 140's | 16,75 |
| 150's | 16,25 |
| 160's | 15,75 |
| 170's | 15,25 |
| 180's | 14,75 |
| 190's | 14,25 |
| 200's | 13,75 |
Source:
IWTO Fact Sheet
The thickness of the fiber affects the strength of the fabric, what mean, that when you are looking for fabric for suit you need to ask yourself how often you will be wearing this suit. It is worth knowing that the thinner the microfiber number S, the more delicate fabric and more vulnerable to micro-damage.
That's why wool from the 150's-200's range we recommend for special occasions (wedding), where an exclusive, high-quality clothing will make you feel extremely special. It is a type of incredibly fine, almost silk like in their texture and weight and due to these features needs to rest for a relatively longer time and is unsuitable for frequent, intensive use. However, it is perfect as a wedding suit.
The 130's-140's wool fibres are also characterized by a very small fibre diameter that makes the fabric very delicate. For this reason, we recommend a suit made of such wool for occasional use, or for all men, for whom the highest comfort of wearing is the most important. A suit sewn from a fabric of this fibre thickness is very light and comfortable to wear. Suits made from such wools look exceptionally, but also require the same exceptional treatment.
100's-120's wools due to the slightly larger fibre diameter are more practical in use. First of all, they are more durable and suitable for more frequent use than wool with a thinner fibre diameter. We especially recommend people who, in addition to high-quality and fashionable design, would like to have a durable and comfortable to wear fabric.
80's-90's wool is the most durable of superfine woollen fabrics, which is why it is very suitable for suits for more durable usage. Such fabric is an excellent choice for a business suit and everyday use, which of course does not mean that you cannot sew unique clothing for special occasions.
We hope that we have been able to familiarize you with the specificity of superfine wools and we have made it easier to choose the right fabric.
We invite you to get aware of our catalogues with fabrics for Made to Measure & BeSpoke Tailoring!